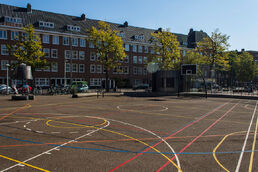 The Columbusplein Republic is a micronation in the Amsterdam West. It was founded by an organisation from an initiative led by SOCIALDESIGNFORWICKEDPROBLEMS which studies how designers and artists can work with governments for social impact.
Foundation
Edit
It was formerly a public square in Amsterdam West wich is a hotspot for social issues. It has unique demographics. It's multicultural population include immigrants from Turkey, Morocco, Dominica and Surinam. More than 20 organizations have been active in the neighborhood for years, helping struggling families and organizing activities for kids and parents, as well as local politicians and social workers in the area are still struggling to find ways to tackle these problems. As a result, an artist Jorge Mañes Rubio has decided to start Columbusplein as a new state, while walking on a playground in Columbusplein. He noticed the great effects of all the colors, which reminded him of a flag. Amsterdam West received the idea with enthusiasm, but they also remained very skeptical about the viability of the project. A new micronation sounded utopian.
The National Secret Sauce competition
Edit
It was a competition to make the National Secret Sauce, for the french hries, which is a favorite snack in Columbusplein. Nine-year old Sophie,the winner of the competition has her face drawn on the national stamp, and the secret sauce recepie is being used in local markets and restaurants.
Columbusplein's first Space Program (Mission Kite)
Edit
Together with some young national astronauts, they went to visit the European Space Agency in Noordwijk, where they learned everything about the International Space Station and how astronauts live up there, and got themselves ready for our first mission,which Jorge Mañes calls "Mission Kite". One day later, kids were creating their own tyvek kites, featuring drawings from lunar modules, planets, space ships and so on. After customizing and assembling them, it was time to start the mission, and kites flew in Columbusplein for the very first time. The reaction was amazing. Even police officers and social workers spontaneously joined the event.The Space Program was important not only because it played with kids' ambitions, but also because, for the first time, social workers took ownership of the art project.
Kids-events and mearchandise is pretty much the base of the Columbusplein's economy.The Columbusplein's official currency are the Voyages.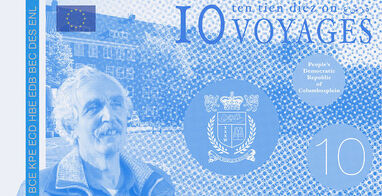 References
Edit
Community content is available under
CC-BY-SA
unless otherwise noted.