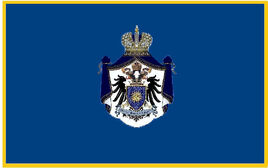 The Principality of Orient
, is a costitutional monarchy founded by the head of the Royal House of Orient, His Royal and Serene Highness Prince Leonardo I.
The Principality is an indipendent sovereign micronational state based on respect, honesty and justice.
The flag of the principality is made with the personal coat of arms of the sovereign Royal Crown Prince with a blue bach borded or.
Coat of Arms
The coat of arms of the Sovereign Royal Crown prince, along with the titles come from his own family and THE OWNERSHIP have been recognized and certified by THE NOTARY and the hight court of justice of the Italian Republic.(The sentence has been published in the official journal of the Italian Republic) and is internationally executive under the Convention of New York (10 June 1958)
Official Colors
The official colors of the state are blue and yellow.



Government
The state is costitued by the royal sovereign Prince, the High Council, the Council of the Sage, and the several ministeries. this micronation is costituted according the international law (Montevideo convention 1933 the universal declaration human rights and the universal declaration of the rights of the peoples).
The Principality has several knights order and the most important are :the SOVEREIGN ORDER OF THE KNIGHTS OF ORIENT (SOKOR), and THE KNIGHTS OF SOVEREIGN ORDER OF THE CROWN OF ORIENT.
Official Website
http://www.shinvam.org/ (In Italian, but there is also a page in English, and there will be one in French.)